Message from the 14th General Assembly of CEC to all the member churches
"And now, what are you waiting for?" (Acts 22.16)
In Budapest from 3-8 July 2013 we, the participants of the 14th General Assembly of the Conference of European Churches (CEC) have met together as brothers and sisters in Christ under the title theme, "And now, what are you waiting for?" (Acts 22.16). We offer praise to God for this opportunity and express our thanks to the Hungarian churches and public authorities for their overwhelming hospitality and support of our work.
Our main task in Budapest has been to renew the constitution of CEC as an expression of our commitment to a deepened ecumenical fellowship and visible unity in Christ that provides a common witness to Europe and to the world, experiencing impacts of the socio-economic crises at times it was difficult, but by the grace of God we succeeded, building on over fifty years of CEC's history, our renewal reflects the vision that
"new wine is put into fresh wineskins, so that both are preserved"
(Matthew 9:17).
A time to sow and a time to reap
(Ecclesiastes 3:2).
The previous General Assembly held in Lyon, France in 2009 was a time to sow the hope of a renewed CEC. At the end of intensive deliberation of this Budapest Assembly, we can celebrate the completion of a constitutional renewal, laying the foundation of an efficient and relevant ecumenical organisation. Now it is time to reap, and to set out on a mission to serve the people of Europe and the rest of the world, responding to their spiritual needs. Europe's population faces situations of despair and hopelessness and millions of young people across our continent struggle to find a fulfilling place in society. With humility and Christian commitment we seek to promote the voices of the poor and oppressed, the voices of those who are still waiting for decisive action addressing their need and their desire for a better future.
Churches in all countries of Europe are invited to join in intensifying ecumenical relations in order to strengthen our respect for each other as sisters and brothers in Christ. The Conference of European Churches continues to be an open platform for co-operation of churches and partner organisations across the continent.
This invitation is a reaffirmation of CEC's mission: offering a gospel witness and diakonia to the people of Europe as already stated in the Charta Oecumenica. This 2001 European ecumenical guideline document affirms that
"we work towards a humane, socially conscious Europe, in which human rights and the basic values
of peace, justice, freedom, tolerance, participation and solidarity prevail."
(Article 7)
Be transformed by the renewing of your minds
(Romans 12:2)
We are called to be "faithful to the gospel, seeking to make a common contribution to the mission of the Church, to the safeguarding of life and the well-being of all humankind" (New CEC constitution). We invite people of all Christian churches to engage with this mission, promoting respect for human dignity, freedom of religion, and efforts for social, economic, and environmental justice. To succeed in this commitment we rely on a repentance and internal personal transformation in Jesus Christ.
This transformation is also a call to solidarity. We reaffirm our Christian commitment to welcome the stranger and offer hospitality and shelter to those who are in need. Our aim is therefore to reinforce the Christian witness in a secularizing Europe. We will also comfort the sufferings of the oppressed, seek justice, build reconciliation and grow peace. We pray especially, at this time, for our sisters and brothers and all people in the Middle East.
Arise and go!
(Acts 22.16)
The question "What are you waiting for?" answers itself in the book of Acts with the imperative "Arise and go... calling on God's name". As such it is an imperative no longer to wait but to go and bear the fruits of the Spirit in the here and now. As we arise and depart from Budapest, we leave behind us the idea of waiting as a time of despair and indecisiveness. We bring with us the spirit of transformation, and go with hope for the renewal of our spiritual life, of our ecumenical journey, of our commitment to visible unity, of our ethos, of our politics, and of the whole creation. In this we are inspired not by ourselves but by the spirit of Christ who says,
"See, I am making everything new!"
(Revelation 21:5)
---
Bishop Christopher Hill is the new CEC President
The new Governing Board of the Conference of European Churches (CEC) has chosen the Anglican Bishop of Guildford, the Rt Rev. Christopher Hill as the President of CEC.

Bishop Christopher was chosen at the first meeting of the new Governing Board on Monday.
Very Rev. Karin Burstrand, the Dean of Gothenburg in the Church of Sweden is one of the two vice-presidents along with His Emminence Metropolitan Emmanuel of France who stepped down as President.

Before CEC's new Constitution came into effect on Monday, CEC had a 40-member Central Committee that met annually to oversee the implementation of the decisions of the Assembly.

A presidium of 10 members served as executive to the Central Committee.
The new CEC Constitution approved on 7 July establishes the Governing Board as the main governing body.

The new Governing board:

Mag. Julija Vidovic Serbian Orthodox Church
H.E. Metr. Joseph Romanian Orthodox Church
Dr. Katerina Dekanovska Czechoslovak Hussite Church
Vic. Adriana Florea Evangelical Church A.C. in Romania
Rev. Michael Bubik Evangelical-Lutheran Church A.C. in Austria
Rev. Silke Tosch Union of Evangelical Free Churches in Germany
Rev. Christine Busch Evangelical Church in Germany
H.E. Archbishop Dr Yeznik Petrosyan Armenian Apostolic Church
Mr Andreas Aarflot Church of Norway
Prof. Dr. Dean Aila Marjatta Lauha Evangelical-Lutheran Church of Finland
Very Revd Karin Burstrand Church of Sweden
Ms Emma Johnson Methodist Church of Great Britain
Bishop Christopher Hill Church of England
Rev. Alison McDonald Church of Scotland
Rev. Gwynn ap Gwilym Church in Wales
Mr Edouard Kibongi Kanza Evangelical Baptist Union of Italy
Rev. Christian Krieger Union of Protestant Churches of Alsace & Lorraine, France
Very Rev. Archimandrite Ignatios Sotiriadis Church of Greece
H.G. Bishop Porfyrios of Neapolis Church of Cyprus
H.E. Metropolitan. Emmanuel of France Ecumenical Patriarchate




Bishop Christopher Hill,

new CEC President
---
Anikó Schuetz,
Co-opted staff writer, Church of Scotland

Um 21:20 Uhr am Sonntagabend wurde die neue Verfassung der KEK mit einer überwältigenden Mehrheit (160 Ja-Stimmen, 7 Nein-Stimmen, 7 Enthaltungen) von der Vollversammlung angenommen. Auch die Dritte Lesung der Verfassung brachte zahlreiche Diskussionen, Fragen und Kommentare mit sich.

Die neue Verfassung löst die vorhergehende, die 1992 beschlossen worden war, ab. Sie trifft Vorkehrungen für den Umzug des KEK-Sekretariats von Genf nach Brüssel, obwohl dafür kein konkreter Zeitplan erstellt werden konnte, da die notwendigen legalen Prozesse sowohl in der Schweiz als auch in Belgien diesen Umzug verlangsamen könnten.

Sobald dies praktisch und rechtlich möglich ist, werden die KEK-Büros, die sich seit 1959 in Genf befunden haben, nach Brüssel verlegt werden. Das Büro in Straßburg wird erhalten bleiben, um Beziehungen zum Europarat und anderen Behörden besser aufrechterhalten zu können.

Die Vollversammlung setzt sich aus Delegierten der fast 120 KEK-Mitgliedskirchen und Kirchenvereinigungen zusammen. Die neue Verfassung wird am Dienstag, dem 9. Juli 2013, nach dem Abschluss der Vollversammlung in Kraft treten.

Der bisherige Zentralausschuss wird nun in einen Verwaltungsrat mit zwanzig Mitgliedern umgewandelt. Dieser Rat wird mindestens zwei jährliche Sitzungen abhalten, um die KEK-Geschäfte zwischen den Vollversammlungen, die nur alle fünf Jahre stattfinden, fortzuführen. Der Verwaltungsrat wird von einem Präsidenten oder einer Präsidentin und zwei Vize-PräsidentInnen geleitet. Der Generalsekretär oder die Generalsekretärin wird die alltägliche Arbeit im Sekretariat leiten.

Bestehende Kommissionen der KEK werden in ein einheitlicheres System umgewandelt werden. Verhandlungen mit anderen Organisationen wie der Kirchenkommission für Migranten in Europa (CCME), die eng mit der KEK zusammen arbeitet, werden fortgesetzt, um über eine mögliche Fusion zu entscheiden.

Trotz des langwierigen Prozesses der letzten Tage, in denen die neue Verfassung aus dem vorgeschlagenen Dokument geformt wurde, wurde die Annahme des Schriftstücks mit rauschendem Applaus gefeiert. Allerdings wurde auch betont, dass der Weg zu der neuen Verfassung nicht immer einfach war, und dass einige der Versammlungsteilnehmer und -teilnehmerinnen Verletzungen erfahren haben. Eine der Delegierten erklärte, dass sie sich, wie viele andere weibliche und JugendteilnehmerInnen der Versammlung, marginalisiert fühlt. Obwohl die Gründe für die Abschaffung des obligatorischen Jugend- und Frauenanteils von Delegierten nachvollziehbar seien, hätten sie doch zu Kränkungen geführt, die mit Sensitivität behandelt werden sollten.

Nach dem Abschluss der Verfassungsdebatte bedankten sich die Moderatoren bei dem Dokumentationsteam und den anderen Mitarbeitern, Stewards und Volunteers der 14. Vollversammlung, ohne die der mitunter komplexe Ablauf der Versammlung sehr viel schwieriger hätte sein können.

Die Verfassung wird offiziell veröffentlicht, sobald sie auch in die anderen Versammlungssprachen, Französisch und Deutsch, übersetzt und legal geprüft wurde.
---
Letter from the Assembly to the Churches in Syria
The Assembly in Budapest took note of the present situation in Syria, which affects the lives of all Syrians. The Assembly sent a letter from the new CEC President the Rt Rev. Christopher Hill.
"We are aware of the difficulties you are going through. As brothers and sisters in our common Lord and Saviour Jesus Christ, we express our solidarity with your Church and assure you that we are keeping you in our prayers.

The Assembly is aware of the kidnapping of His Eminence Metropolitan Yohanna Ibrahim of Aleppo, of the Syrian Patriarchate of Antioch, and His Eminence Metropolitan Boulos Yazigi of Aleppo and Alexandrette, of the Greek Orthodox Patriarchate of Antioch. We assure you that our entire constituency continues to pray for their safety and liberation. The assembly has also adopted a statement demanding the immediate release of the two Metropolitans who are messengers of peace and struggling for the good of all human beings.

May our Lord Jesus Christ who suffered and was crucified and resurrected for the salvation of the entire world bring peace upon Syria and the entire region."
---
Liberté et Droits de l'homme au cœur des préoccupations de la KEK
Gérald Machabert
Co-opted Staff – Writer (United Protestant Church of France)
La 14
ème
Assemblée de la Conférence des Églises européennes (KEK) qui se tient à Budapest jusqu'au 8 juillet s'est beaucoup focalisée sur son avenir, en particulier institutionnel autour de la nouvelle
Constitution
adoptée ce 7 juillet. Mais une telle Assemblée vit aussi au rythme des pulsations du monde.
La crise financière et ses répercussions ont été au cœur de plusieurs des

Déclarations publiques

adoptées par l'Assemblée. Parmi les «

effets sévères

» de cette crise, l'Assemblée a pointé la difficulté des «

autorités politiques qui peinent à s'accorder sur des solutions communes en Europe

[…]

des gouvernements perdent en crédibilité et en confiance.

»
L'Assemblée souligne que les jeunes sont parmi les premières victimes de cette crise. « À cause du chômage des jeunes, la jeunesse en Europe court le risque de devenir une génération perdue. » Face à ces défis, l'Assemblée appelle ses Eglises membres à « demeurer solidaires des marginalisés dans les sociétés et d'approfondir encore le dialogue avec les acteurs politiques et économiques sur ces problèmes.
Roms et réfugiés
Parmi les populations sur lesquelles l'Assemblée a souhaité attirer l'attention figure une fois de plus la minorité Rom. Aujourd'hui, l'Assemblée souligne les efforts entrepris au niveau européen, en particulier depuis l'adoption par l'UE du
Cadre pour des stratégies d'intégration nationale des Roms jusqu'en 2020
. Mais elle presse désormais les gouvernements à effectivement mettre en pratique ces plans élaborés et les Église à œuvrer contre les préjugés, la discrimination et le mépris y compris en leur sein. Un appel similaire est lancé concernant les réfugiés, en particulier à être attentif à tous ceux qui perdent «
la vie au cours de leur voyage risqué vers l'Europe.
»
Préoccupations pour le Moyen-Orient et l'Afrique du Nord
L'Assemblée s'est également tournée vers les voisins de l'Europe : Moyen-Orient et Afrique du Nord, soulignant les « aspirations des frères et sœurs vivant dans ces pays vers la démocratie, la stabilité et une vie meilleure » et exprimant la solidarité des Églises d'Europe pour ce chemin qui s'avère long et semé d'embûches. Cette préoccupation s'est en particulier tournée vers l'Egypte qui connaît de nouveaux bouleversements, mais aussi vers la Syrie, en appelant à la libération des Métropolites d'Alep enlevés en mai.
La liberté d'expression menacée « par la surveillance portant atteinte aux droits humains individuels » en Europe et la liberté de croyance en Turquie et en Macédoine ont également fait l'objet d'une déclaration publique de l'Assemblée.
---
Another Assembly is behind us. Apart from the new constitution, we this Assembly has also left its impressions on our life of prayer and worship. The booklet, Gloria Deo, includes services and prayers which can inspire worship and prayer in our home churches. It also includes a number of songs which will hopefully be used for many years to come. Let the hymns sound on!
---
Youth in Europe: What are we waiting for?
The 14th Assembly of the Conference of European Churches has taken notice of the grave social consequences of the current economic crisis in Europe and the radical increase in the number of people in despair, some even taking their own lives. The economic crisis in Europe and beyond is now going on for more than five years. In 2012 we have even experienced another recession phase which means that unemployment is continually rising. This situation has immense repercussions on people's welfare and especially on young people. Because of youth unemployment youth in Europe, in particular migrant and ethnic minority youth, are at risk of becoming a lost generation. Being unemployed effects a young person's sense of identity, strips them of their dignity in society and removes their hope of future prospects.
The CEC Assembly appreciates the recent initiative of the EU Commission as outlined in the communication "Working together for Europe's young people – A call to action on youth unemployment (2013)" underpinned by a specific fund for regions with severe unemployment rates.
CEC encourages all churches to offer opportunities and support to young people seeking employment. Churches can give young people hope when they do not see a way forward, and we wish to urge churches to resource efforts to give young people a renewed sense of hope. By investing in the young generation we ensure long term growth in the future. Churches should identify their role in overcoming the increasing youth poverty and promote social justice and solidarity.
---
Collective complaint to the European Committee of Social Rights
On Wednesday 3rd July 2013, the Committee of the European Social Charter of the Council of Europe (Strasbourg) has declared admissible a case on the situation of undocumented migrants in the Netherlands, presented by the Conference of European Churches (CEC).
Upon request of the Protestant Church in the Netherlands (PCN), the Conference of European Churches (CEC) has submitted on 17 January 2013 a "collective complaint" to the European Committee of Social Rights (called below "the Committee") of the Council of Europe (CoE), which seat is in Strasbourg.
CEC is one of the organisations authorized to lodge a collective complaint under the Revised Social Charter.
"If a country really lacks resources, the international community must step in. The Netherlands is however a rich country. Expensive medical assistance is in principle available, whilst food and shelter is denied. Rejection of the destitute has nothing to do with the public recourses of the Netherlands. The State refuses to meet international standards to which it has voluntarily decided to bind itself, complying not even with the minimum core obligations." told Rev. Richard Fischer from the Church and Society Commission of CEC.
---
The 14th CEC Assembly took note of the recent developments that took place in Egypt. After the largest demonstrations in which millions of Egyptians participated, the military took over power. Violence has erupted in which human lives have been lost. The important political, religious and civil society actors in Egypt seek to reach consensus on the steps to be taken next and that new democratic elections shall be organized soon.
The CEC Assembly expresses its sympathy and solidarity with the Egyptian citizens who are struggling to find ways to bring their country to a stable and functional democracy and fairer economic conditions.
We deplore the escalation of violence in Egypt, and we call all actors to refrain from violence.
We encourage all actors in the Egyptian society to join their efforts in their journey towards a stable and functional democracy. We particularly encourage peaceful reconciliation between the different parties in society and invite churches in Europe to support such efforts.
We call on the CEC member Churches to pray for peace, stability justice, and harmony in Egypt. As Christian Churches, we feel bound to the Coptic Orthodox Church and other Christian churches, our Christian brothers and sisters living in Egypt, and commit ourselves to stay in close contact and communication with them.
We support their efforts for Christian-Muslim cooperation particularly in this time.
We keep them in our prayers and ensuring them of our love.
---
CEC President and General Secretary show satisfaction with the journey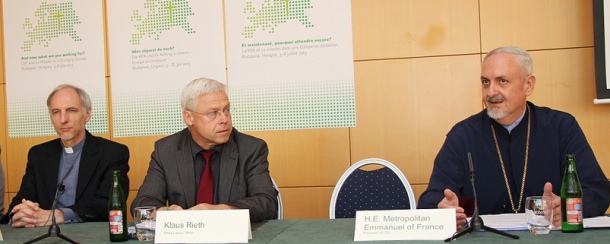 (From Left) CEC General Secretary Rev. Dr Guy Liagre, press conference moderator Rev. Klaus Rieth and Metropolitan Emmanuel of France.
Theodore Gill, coopted staff, WCC
Metropolitan Emmanuel of France, outgoing president of the Conference of European Churches (CEC), has said the 14th Assembly in Budapest has been "a long but fruitful journey on the Danube".
At the end of the meeting, he said, CEC finds itself "sailing again with really favourable winds that will bring us to peaceful ports."
Rev. Dr Guy Liagre, speaking together with Metropolitan Emmanuel on Monday 8 July at the final press conference of the CEC Assembly, praised the skill of three moderators who chaired Assembly sessions on the central issue of adopting a new constitution.
The moderator and co-moderators of the constitutional deliberations were Archbishop Dr Michael Jackson (Church of Ireland), the Very Rev. Dr Sheilagh Kesting (Church of Scotland) and the Rev. Dr John Chryssavgis (Ecumenical Patriarchate of Constantinople).
At the press conference, the CEC president addressed feelings of "bitterness for some people" experienced in the Assembly over changing constitutional approaches to the relationship between the Conference and other associations, especially groups representative of women and youth.
Provisions in the new CEC legal document, observed Metropolitan Emmanuel, are not perfect: "There is a lot still to be done. There is also room for improvement." He cautioned that in attempting to heal relationships, "we look for light, not fire." Discussion must not dissolve into emotionalism.
Liagre added, "Youth organisations represent youth, but churches also represent youth." Young people and other particular groups of believers, he suggested, are not to be treated as separate from the churches but as constituent members of the Body of Christ.
---
The Assembly lives on! You could read more on the website or on the blog or watch the webstreaming from the Assembly in Budapest. We welcome your thoughts and input for the future, welcome to join the Facebook group: CEC Assembly, or the blog! Everything will go on until the end of September.
About the use of photographs from the Assembly: F
eel free to use them in your respective churches and ecumenical contexts. Just write "Photo: CEC" in the caption.
---
From the editors of the Assembly newsletter
Thank you This is the last planned Assembly newsletter for now. We, the editors of this newsletter, want to thank all of you readers for following the newsletter, and for the feedback we have received.

Peter Kenny & Sigurdur Hafthorsson